The traditional gambling game "Fan Tan" is another culture passed down from China a couple of hundred years ago. There was a history saying that the Philippines and China were trade partners back then. Many Filipinos who had been to China also brought back different Chinese cultures to their country. One of them is the gambling games, such as Sic Bo and Fan Tan.
Usually, you can find the gambling table of Fan Tan in community casinos. But there are many casinos closed due to the pandemic. Therefore, online casino becomes the best choice to place a bet. The best supplier that provides this kind of casino game is Kingmaker. Today, we'll get to know besides the easy operating, what else can players benefit from this game.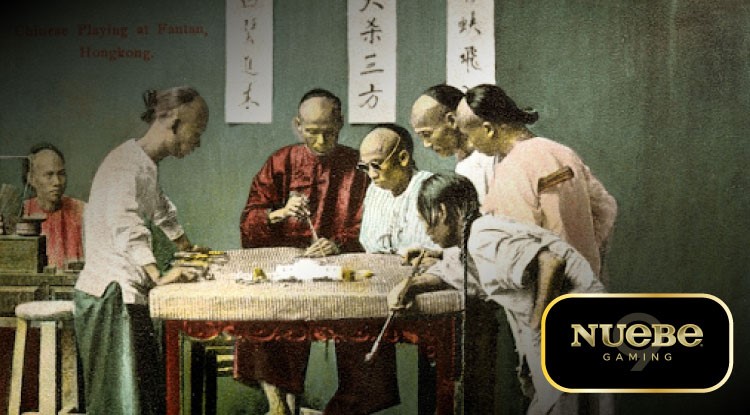 How to Play Fan Tan Casino Game
Fan Tan is a very popular game in online casinos. Originated from China and became famous around the world, it was said that this game was the most popular among farmers in the beginning. At first, people used simple equipment to play this game, including small item like beans, stones, buttons, or Tamarind seeds. What material to use as gambling devices is decided by both players and dealers. The playing method is to take 200 to 500 beans or buttons and then cover some of them with the big dice cup. Then, divide them into piles of four and let the players guess how much item is left in the last pile.
Enter Nuebe Gaming to bet on Fan Tan. There are four types of halls for you to choose from.
If you are new to Fan Tan, you can start to bet from the CASUAL practice room. The lowest and highest betting amount is 5 and 300 pesos.
If you do not have much experience, you can choose to bet in NOVICE newcomer room. The lowest and highest betting amount is 30 and 750 pesos.
If you are an experienced player, you can bet in an EXPERT professional room. The lowest and highest betting amount is 150 and 3,000 pesos.
If you are a player with abundant bet, you can choose the HIGH ROLLER main-mode room of the highest bets. The lowest and highest betting amount is 300 and 7,500 pesos.
The table of odds is shown as below: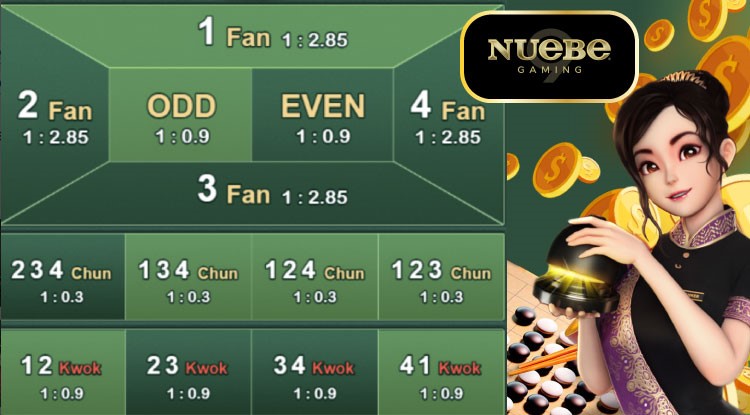 Bet on ODD: 1 or 3 buttons or beans, odds of 1:0.9
Bet on EVEN: 2 or 4 buttons or beans, odds of 1:0.9
Bet on 1 FAN: bet on a single number, odds of 1:2.85
Bet on 1,2 Kwok: two numbers will be the stakes of winning, odds of 1:0.9
Bet on 2,3,4 Chun: three numbers will be the stakes of winning, odds of 1:0.3
The most special thing about Kingmaker is, players get the chance to gain random prizes twice. If you bet on 1 FAN with 100 pesos, and you win the 2.5 times of odds prize money in the betting part, adding the randomly-given Bonus 2X, this means that from the normal 2.5 odds, you will get 5 times (2*2.5) more prize money in the round.
Betting Fan Tan Online Casino via Mobile Phones
The playing method of Fan Tan is simple. You can bet with cellphones, without complicated rules and restrictions. Thus, the gaming techniques are very easy to understand. Now, you can know the tips fast. We recommend that you lower down the chances of failure. It isn't important how much you win, because if there is no loss, it is a successful bet.
-You should choose the option that is being bet the most. For example, the betting method of Chun will lead to an odds rate of 0.3. Even though the odds are lower, the failing chances are also low. The most important is that there is a Bonus 2X in the game, which helps the players to gain prize money.
-How to choose the best Chun betting method? Observe the outcomes after each round and choose not to bet the numbers shown in the last two rounds. For example, the number 1 and 2 was drawn in the last two rounds, then in this round, you can bet on number 3, and 4, which owns bigger chances to win. This is a very simple betting tips. Though it profits less, you have chances to win the victory over 80% by simple gaming methods.
Register with Nuebe Gaming to Play Fan Tan
For players who want to play Fan Tan or any kind of folk games, you can now apply for membership in the online casino Nuebe Gaming. Then, choose Kingmaker to get access to all kinds of games. Nuebe Gaming will bring all services to you, click the button and write down your name and phone number. You can bet immediately using the bank account or buy GCASH in convenience stores.
Nuebe is the largest and first legal online casino in the Philippines. With the experience of over 10 years, with the help of the latest technique nowadays, the cash flow is 100% stable, convenient, and fastness. You can also enjoy all kinds of other games besides Kingmaker. You will find over 100 betting options. Most importantly, it ranks first in several sports betting aspects. All sports games, including soccer, will be broadcast 24 hours live all day, which will satisfy the taste of every player. This is also a payback for all the supporters.