Charge Buffalo slot  is a very simple and fun online JILI slot. Players can enjoy the vast North American prairie here. Not only are buffalo seemingly fierce, but gray wolves, moose, eagles, and brown bears are also hovering around. Players must be in this game. Win your money in a crisis-ridden environment.
Charge Buffalo by JILI Games has 4096 paylines and a maximum bonus of 4,000 times. Although there are not many bonus symbols in the game, only WILD and SCATTER, the high bonus and excellent performance of 97.35% RTP make it easy for ordinary people to get started this game.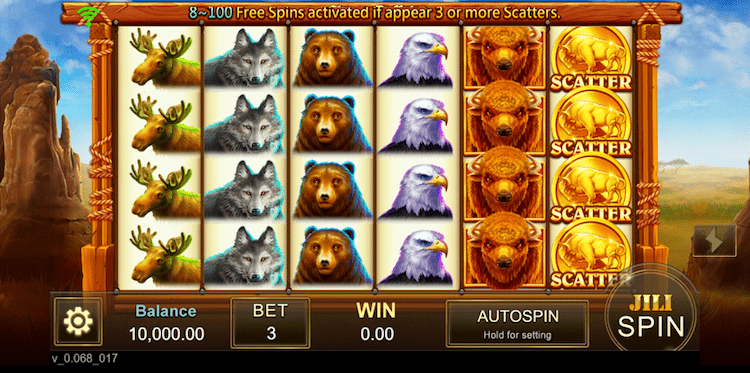 | Theme | RTP% | Payline | Betting range |
| --- | --- | --- | --- |
| | | | |
| Highest bonus | Volatility | board | Jackpot | Visual effect |
| --- | --- | --- | --- | --- |
| | | | | |
| Highest bonus | Volatility | board | Jackpot |
| --- | --- | --- | --- |
| | | | |
4 Reasons Why You Must Play Charge Buffalo Slot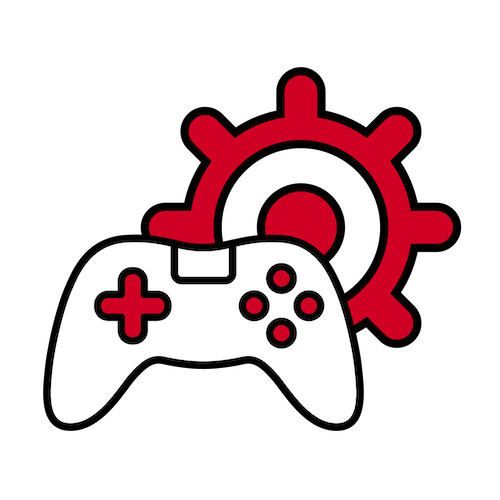 Ferity theme
Rare, wild American style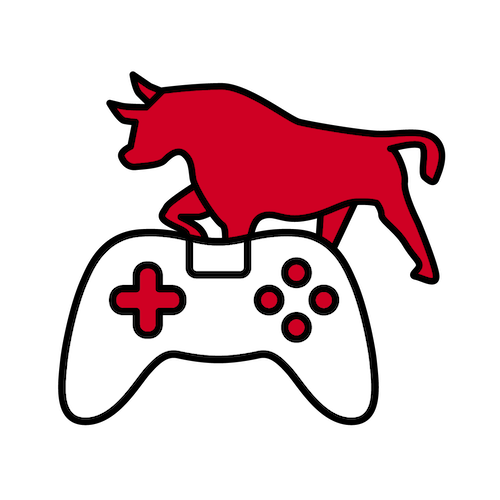 Infinity free game
Get 200 times free games easily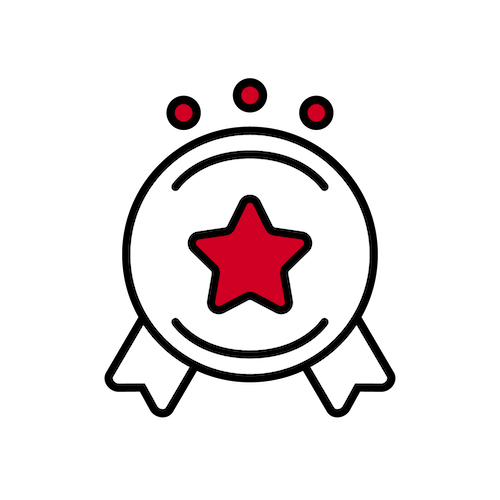 4096 ways to win
6X4 board,up to 4096 payline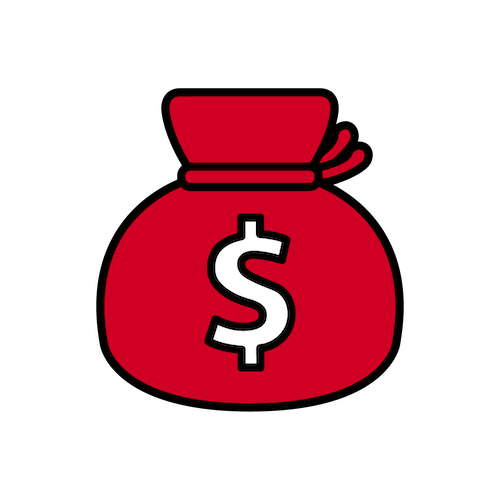 High bonus
Highest 4000x bonus with Jackpot prize
How to Play Charge Buffalo by JILI?
When a player learns how to play JILI online slot machine, the most important thing is to recognize which symbols are the most valuable. We can know from the paytable that the main role of the game, the bison, has the highest odds, and 6 bison has 300 times the reward. Here comes the eagle, brown bear, gray wolf, moose, and finally the numbers.
Next, we can recognize the bonus symbols in the game, these symbols can bring additional free games to win the bonus, common bonus symbols include, Free Spins, Scatter symbols and wild There are three types of symbols (Wild), and different games have their own special rules. The following are the basic rules of Charge Buffalo slot and the introduction of symbols. If you want to win the game, you must be familiar with the following rules:
Reels and paylines
Charge Buffalo slot from JILI Games is a typical 6×4 large board with a total of 4096 paylines, and only the highest amount of each winning is paid in the game. Winning points calculation method = odds X player bet amount / 40.
Free game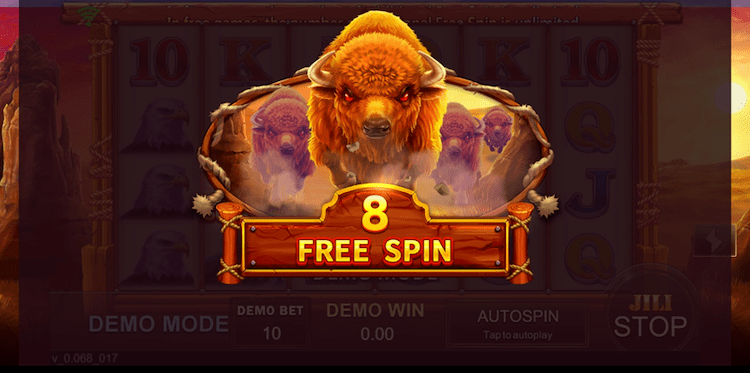 The number of Scatters symbol obtained in a normal game determines the number of free games to play. As long as you get 3 Scatters symbols in a row on the board, you can enter the free game.
Get 2 Scatter symbols in the free game to get more free game!
If there is a Wild symbol in the free game, then you will get a 2~5 times bonus randomly, and be additive. For example: if there are wild 3X and wild 5X in the line, then a total of 8X bonus will be obtained.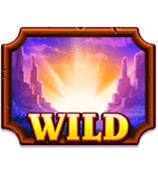 Wild symbol
Wild symbol in Charge Buffalo is an icon with sun ray rise between a purple valley. It only appears in 2~6 spin, it can also replace any symbol in the game.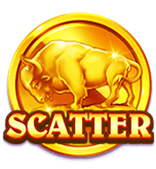 Scatter symbol
It is a golden bison coin. You must obtain 3 Scatters to enter the free game. When 2 Scatters are obtained, a bison will be summoned to run wildly. Once 3 scatters are collected, 3 bisons will rush at the same time. Run wildly and break through the glass, as if you are about to rush out of the player's computer screen, to start an exciting free game.
How to Win Charge Buffalo Slot?
If you have played slot machines for a period of time, you should know that each game has one of the biggest features. Players must learn more to get a higher chance of winning. The biggest feature of Charge Buffalo slot, in addition to the addictive sound and light effects, the most arousing discussion among players is the "free game" or also call "slot free spins".
As long as you collect 3 Scatter Bison coins, you can easily enter the free game. The most fascinating thing is its infinity free games. As long as the player transfers 6 Scatter coins in the normal game, it can get up to 100 times. What's shocking is that if you roll out 6 more in the free game, you can get another 100 free spins! Accumulating more than 200 spins, it definitely makes people feel soft and happy to win.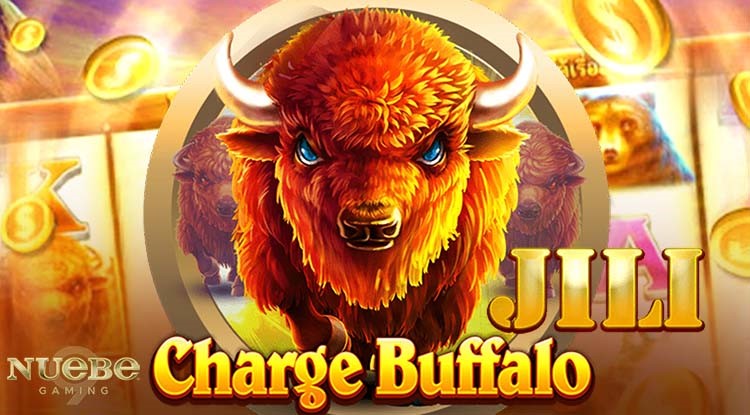 Play JILI Slot Charge Buffalo on the Best Site
Players can play the Charge Buffalo slot game smoothly on all mobile phones, Android and iOS or PC and tablet devices. It is easy to be use and can immediately enter the game without any fees. You can play for free demo in HawkPlay Casino. For the DEMO online slot game, you can click the customer service button in the lower right corner at any time if you have any questions, there is a friendly and beautiful real customer service for you.